Description
THINK REALTY REAL ESTATE is pleased to present Spacious One bedroom | Fully Furnished | Ready to move.
Features:
– 2 Parkings available.
– 648 sq ft
– 1 Bedroom with separate washroom.
– Full Canal View.
– Spacious & Luminous Unit
– Open kitchen
– Luxury Furnished
– Fitted kitchen appliances
– Floor to ceiling windows
– Built-in wardrobes
– Community Pool & Well Equipped Gym
– Great community and facilities
– 6 min from Dubai Mall
– Prime location
About Building
Height
101 metres (331 feet)
Unit types
Studios
One-bedroom apartments
Duplexes
Units
The development contains a total of 256 units.
Key dates
Construction began in 2007 and was completed by February 2021.
The architect
The architect of the project was James Law Cybertecture International Limited.
The contractor
The main building work was done by Modern Building Contracting Company.
Bedroom layouts
The building contains a mix of studios and one-bedroom apartments as well as duplexes.
Timeline
The project was launched in 2006. Construction began in 2007 and was completed by February 2021.
Additional information
This project was originally dubbed the 'iPad', the design being inspired by Apple's iPod MP3 player with the tower sitting on a docking station angled at 6.5 degrees to give the exact look.
By 2007, when groundworks for the construction began, the building had been renamed 'The Pad'. In 2009 construction was put on 'hold' until December 2012 and completion is expected to be during 2018.
Company name: ThinkRealty Real Estate Brokers LLC
RERA ORN: 19638
Address: 1404 Iris Bay Tower, Business Bay, Dubai
Phone No: +971 4 5686653
Website: www.thinkrealty.ae
Similar Properties
Think Realty Present to you The One bedroom Apartment for…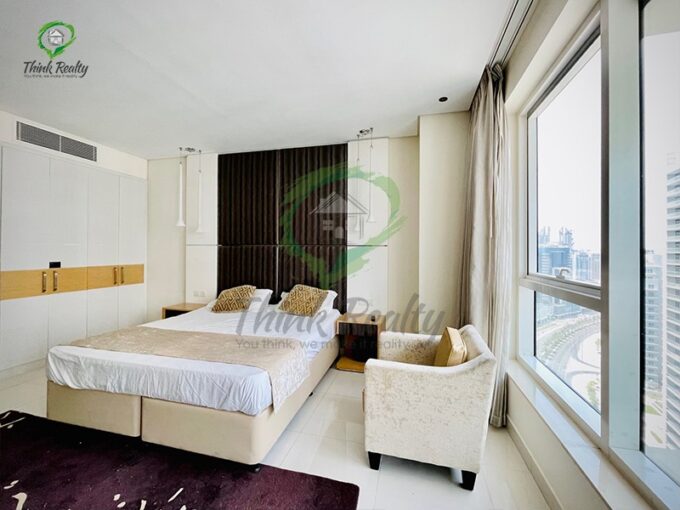 THINK REALTY PRESENT TO YOU FULLY FURNISHED APARTMENT WITH BURJ…
Think Realty Real Estate Broker glad to offering this huge…